Tag: Singapore sightseeing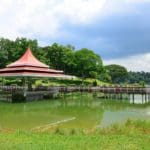 Visit Singapore and experience its tranquil natural wonders away from bright lights and city crowds.
The moment someone mentions Singapore, visions of Merlion, manmade Super Trees and stretches of glistening avant-garde structures conjures up in the mind. It is true that Singapore is a state-of-the-art contemporary country, but the destination offers much more beyond its newfangled attractions. Besides the usual Singapore sightseeing attractions and iconic landmarks, you will find that Singapore has a gorgeous collection of verdant open spaces embedded within the country and its surroundings. These places are totally in contrast to Singapore's bustling modernity and present a refreshing visage of tranquility. Head out to one of these places to reconnect with nature.
So you've decided to visit the Lion City – the cosmopolitan metropolis that has so much to offer for visiting travellers. Get off the typical tourist trail and experience Singapore on a more personal level. Just so you don't waste your time standing in line with the other toursits, here's what NOT to do, and what TO DO instead in Singapore.
It's not all architecture, shopping and food that attracts travelers to Singapore, you'll also find great adventure activities as well. Vacations offer everyone a great opportunity to unwind and relax, and some vacationers tour holiday destinations for the architectural grandeur and beautiful sights.
But for adventure junkies trapped inside a monotonous schedule of work, a state of relaxation (read complete inactivity) may not be as pleasurable as a fun-filled adventure vacation. One of my most adventurous trips was to Singapore. It was a bold plan, as Singapore is known for its cultural heritage, architectural marvels and great food. I never thought Singapore could appease my adventure hunger as well, but as I went in the search of adventure, I was amazed by the choices I found.