Tag: Sightseeing in Abruzzo Italy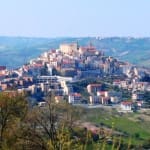 Tour Abruzzo Like a Pro to discover magnificent lakes, picturesque mountain ranges, rolling hills and some of the very best beaches in Europe. Just a short distance from Rome, Abruzzo is where to find your taste of La Dolce Vita.
The phrase "this place has it all" is used far too loosely to describe many locations. Not too many of those places mean it quite the way that Abruzzo does. This central Italian region is an area where the past and present, the sky and sea, business and pleasure all collide to create a spectacular experience that visitors rarely find anywhere else.