Tag: Seattle top attractions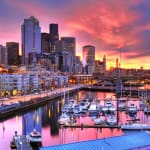 Seattle is one of the most amazing cities in the world. If you can avoid the raindrops that seem to always threaten the city, then you will find an amazing variety of culture and entertainment on display. Everyone tends to hit the big sites like Pike's Place Market, the Space Needle, and the Pioneer Square when they come into town. These sites are worth a visit, but there are a number of insider places that residents visit regularly that you'll want to see as well.
If you're visiting Seattle, then consider these fun out of the ordinary options.