Tag: Seaside Wedding Sites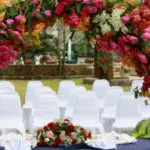 Here Comes the Luxury! Beautiful BnB Wedding Sites For Your Special Day.
Many bed and breakfasts are often celebrated for their romantic surroundings – and as the ideal spots for couples to reconnect. Did you know there are plenty of properties that also offer luxurious packages and amenities designed with weddings in mind? Not only can brides and grooms enjoy nuptials onsite, they'll have access to accommodations for the Big Day and beyond for both themselves and their guests too. Here are a handful consider for those waiting to walk down the aisle.