Tag: Scotland Kayak Tours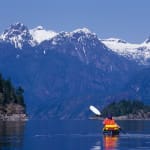 6 Unforgettable Kayak Adventure Tours at some of the world's best kayak destinations.
Kayaking offers an immersive, up-close experience with some of nature's most awe-inspiring landscapes. The sense of excitement and freedom, moving through the water and paddling towards the horizon, is counterbalanced by an equal sense of peacefulness and quiet. Whether you are a beginner or experienced paddler, here is a roundup of some of the most stunning destinations whose splendour is best revealed by kayak.