Tag: Rooftop Restaurants Florence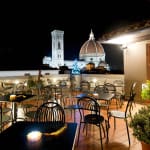 A visit to Florence, in the heart of Tuscany, tickles the senses with intriguing vistas, fascinating history, and memorable culinary experiences. A city this rich in must-see offerings can over-tax a poor visitor's feet and stamina.
What you need is a memorable interlude sipping local wines and sampling divine Tuscan cuisine at a romantic rooftop restaurant offering spectacular views of Florence. Whether you're planning a glitzy night on the town or simply want a wonderful spot to recharge from sightseeing, the views from these rooftop restaurants will feed your soul as well as your tummy.