Tag: Romantic Sites in NYC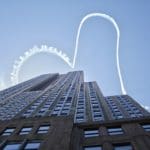 The pressure is on to plan a perfectly romantic Valentine's Day for your love. This year with the big day arriving mid-week, it's a good time to plan a pre-or-post Valentine's Day getaway to celebrate your affection, and nowhere sparkles with more excitement than New York City. There are lots of romantic activities and sites to experience in 2017, so let's take a look at our picks for:
The Most Romantic NYC Treats for 2017.