Tag: portagble cooking stoves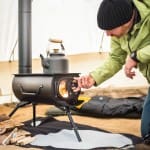 What's New in Camping Equipment? New equipment and gadgets are making camping easier than ever.
The right camping equipment can go a long way in improving your experience when you're out there roughing it in the wild. From core camping gear that will improve your ability to tackle challenging conditions to gadgets and tech that caters to the modern camper – the range of camping equipment available nowadays is nothing less than amazing.