Tag: Port Washington Salt Cave New York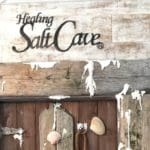 Salt Caves Are The Newest Trend in Health Getaways – I visited one and here's what happened.
Let me start by explaining what salt therapy is. You may have seen Himalayan salt lamps sold in health stores, noted for cleansing the air and reducing allergens in your environment. Imagaine an entire room filled with glowing salt crystals that you relax in and experience the healing effects that are said to include reduced inflamation, relief of coughs, and heightened healing and energy. Also known as Halotherapy, this is an alternative treatment and healing modality. The primary areas that it is proported to benefit are within the respiratory system, skin issues and mental health issues.