Tag: Point Arena Lighthouse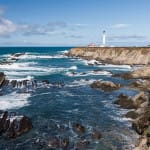 Mention lighthouses and most folks think about the craggy coast of New England. But we would be remiss not to appreciate the majestic Pacific coast lighthouses guiding ships in from the far east or after rounding Cape Horn to reach California in the great gold rush era. Like the Spanish missions, lighthouses were built in strategic locals all along California's coast.
Come along with us as we map out a dramatic 950 mile road trip (perfect for an RV vacation) traveling north to south to explore 7 distinct areas and 15 lighthouses along the Pacific coast of California.