Tag: Pinehills Plymouth MA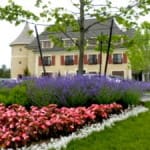 Located in The Pinehills development in Plymouth, MA, the Mirbeau Inn is secluded, surrounded by lush greenery, and well worth discovering. With only 50 deluxe rooms and suites, the Inn is reminiscent of a French country manor home plucked from a Monet canvas.
Treat yourself to a romantic getaway to the Mirbeau Inn (less than a one hour drive from Boston), and you'll think you've skipped away to the Loire Valley of France!