Tag: northern lights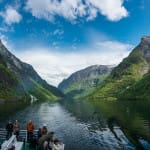 Norway, standing as the western boundary of Scandinavia, is known for its striking natural beauty and fabled Viking history. Colorful fishing ports, rugged mountain ranges and dramatic coastal fjords attract travelers looking for pristine environments to explore. If you venture to the northern part of the country you can experience 24 hours of daylight in summer, and with any luck, the northern lights in winter – a truly spectacular show.
Do something different this summer and head over to Europe's most colorful and enticing travel destination. Here are some great places you must include on your itinerary.