Tag: New Zealand Adventure Activities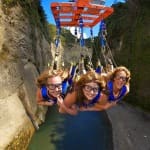 Things done to an extreme level can be a good thing, or a bad thing. All extreme activities in New Zealand though, are not only good, but mind-blowing. If you're looking to take your life experiences to the next level, then New Zealand is the spot to head to. Widely considered the adventure mecca of the world, New Zealand has more adventure activities to choose from than almost anywhere else on the planet. Here are six of the most extreme and exciting adventure activities you'll find in on the North and South Islands of New Zealand.
5 Out-of-the-ordinary experiences in New Zealand
Celebrated for its amazing scenery and array of adventure experiences, New Zealand's diverse landscapes make a perfect holiday destination. With so much to see and do, it can be difficult to ensure you don't miss out on the best activities, so we've put together a list of five of the most adventurous and out-of-the-ordinary experiences within this spectacular country.