Tag: new toys for Christmas 2017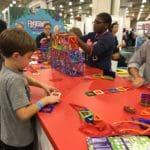 Come along as we experience Play Fair New York, the top spot to experience new trends in the world of toys, play and entertainment.
The first Play Fair began in 2016 featuring hands-on experiences for people of all ages to celebrate the world of play and entertainment. All the top brand toy companies like LEGO, K'Nex, Leap Frog, Nerf, Toys R Us and many more paticipate in Play Fair. They feature the latest and greatest toys for your kids to experience first hand.