Tag: Mt Washington Inns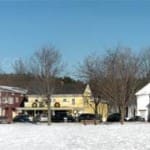 The White Mountains of New Hampshire are one of the most beautiful and easily accessible vacation regions in the world. Known for specular mountains, scenic rivers, festive ski resorts and picturesque Mt. Washington Valley, the White Mountains are worth a visit in every season of the year.
We were recently invited to participate in the 17th Annual Inn to Inn Holiday Cookie Tour hosted by 12 lovely White Mountain Country Inns. Each Inn produces over 1000 treats from original cookie or candy recipes and displays their beautiful holiday decorations. Innkeepers open their rooms for viewing and encourage visitors to enjoy their Inns.
The 17th Annual Mt. Washington Inn to Inn Cookie and Candy Tour makes a perfect pre-Christmas weekend getaway. Holiday Cookie Tour. Just think about what an indulgent opportunity this is; shop for holiday gifts at famed North Conway New Hampshire (tax free) outlet stores and nibble your way around the 13 Country Inns in the White Mountains. Wow, talk about giving yourself an early gift for the holidays!
This two-day event is part Country Inn tour, part sweet sampling of original cookie and candy creations, and part tour of inspirational holiday decorations. The tour takes place on Saturday and Sunday, December 14 & 15, 2013 from 11am to 4pm each day. The inns are all located within 15 minutes of each other, making it an enjoyable ramble through the scenic Mt. Washington Valley.