Tag: Mountain Resorts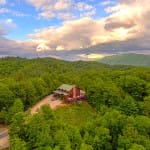 When temperatures reach 90 degrees and above (as they have all across the counntry this week) it's time to escape to the cool breezes of a dreamy mountain and lakeside B&B to beat the summer heat!
As the heat index rises so too does travelers' intolerance for uncomfortable travel and steamy summer locals. The search for cooler destinations in magnificent locations becomes top priority during peak summer, and there are plenty of B&B's situated in mountainous and lakeside regions that definitely fit the bill. Here are a few great properties to check out and check into when planning your next great summer escape.