Tag: Mountain Getaways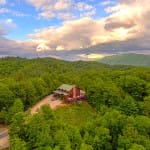 When temperatures reach 90 degrees and above (as they have all across the counntry this week) it's time to escape to the cool breezes of a dreamy mountain and lakeside B&B to beat the summer heat!
As the heat index rises so too does travelers' intolerance for uncomfortable travel and steamy summer locals. The search for cooler destinations in magnificent locations becomes top priority during peak summer, and there are plenty of B&B's situated in mountainous and lakeside regions that definitely fit the bill. Here are a few great properties to check out and check into when planning your next great summer escape.
About The Guaranteed Performance Golf School
The first thing you should know about Bethel Inn's golf school is that the student/instructor ratio is 3:1, meaning everyone gets lots of personal attention and the coach and students can actually play a round of golf together. I knew straight away that I was going to like golf pro, Mark Mallory, when he scolded husbands about shouting "Keep Your Head Down!" to their wives – explaining that was not the true problem. Golf pros Mark and Niko escorted us to the dedicated golf training range where they put us through our paces and reveled all kinds of wonderful golf tips…. Wondering how much to bend your knees? Simple, "Imagine you're standing in your ski boots." – brilliant!