Tag: Mohegan Sun trip report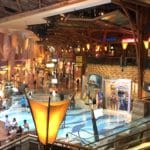 The Tale of the Mom's Night Out, or how three Moms from Long Island make an exciting escape to Mohegan Sun Resort in Connecticut.
After considering a few options, we realized the perfect choice for our ladies' getaway was Mohegan Sun in Uncasville, CT. Let's review the facts: a short 3-hour drive from New York (Long Island), lots of great restaurants, live entertainment, gambling for those who want to give it a go, and a beautiful hotel with reasonable rates. What's not to love about that?