Tag: March Maple Sugar Getaways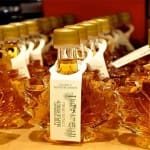 Whether or not the old adage "In like a lion, out like a lamb" remains true, one thing can be counted on, March brings the beginning of Maple Sugaring season in New England. In 2013, the Northeastern United States produced 2.7 million gallons of maple syrup – Vermont alone was responsible for nearly half of that amount.
Considering those incredible numbers, and all the sugar houses offering demonstrations, tastings, and activities for children, New England makes a great escape during the spring months. The Maple Syrup region in the Northeast is like the kid-friendly version of Napa Valley.