Tag: Maine wine trail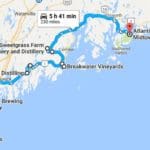 Add some pizazz to your fall Maine road trip by sipping your way up the coast visiting micro-breweries, craft distillers and local vineyards. So come along as we create a Maine Beer, Wine and Cider Tasting Trail.
A drive along the coast of Maine is a treat at any time of year, but come fall when roads are banked with trees crowned in reds and oranges, it is perhaps the best time of all to plan a road trip to leaf peep and sample some of Maine's acclaimed craft beer, wine, and hard ciders! Maine has an abundance of passionately produced local craft beverages that will have you smiling all the way from Kennebunkport to Bar Harbor.