Tag: luxury in China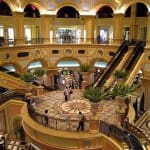 Planning an adventure to China? Here's why you should visit the Venetian Macao.
When it comes to luxurious casinos there are a few around the world that really are jaw-dropping. You've got the Casino de Monte Carlo, the crown jewel of entertainment in Monaco. Then there's the Bellagio in Las Vegas, which has been featured in Hollywood blockbusters like The Hangover and Ocean's 11. But the pick of the bunch is found in the far-east, where the legendary Venetian Macao has been built to astound both tourists and the residents who live there. Here are some of the reasons you should take the time to visit the Venetian Macao if you ever find yourself in China.