Tag: Lake Erie Wine Trail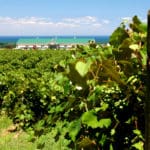 Lake Erie Wine Country stretches for 50 miles along the southeastern edge of Lake Erie (Erie, PA to Chautauqua County in up-state New York) and wine tasting is just one of the awesome activities that attract in-the-know travelers to this bucolic corner of America.
What's that you say….you never heard of it? Well, I suspect everyone has been trying to keep it a secret for themselves. Come along as we discover what makes this region a fun and "spirited" getaway destination well worth discovering.