Tag: Inn to Inn Maine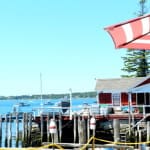 Summer brings out the best of Maine and the new Inns-Along-The-Coast association of coastal inns makes it easy to go in search of Lobsters, Lighthouses and Blueberry Pie!
With inns in Kennebunkport, Rockland and Bar Harbor, (a 2 hour drive from each other) it's a simple task to plan a great one week getaway. Best of all, InnsAlongTheCoast has crafted itinerary suggestions for Food Lovers, Outdoor Adventurers and Art and Culture enthusiasts.