Tag: Iceland Northern Lights Tour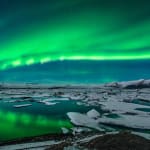 Will This Be The Year You See The Northern Lights? Incredible Sale – Norther Lights Tour to Iceland for just $699 per person!
For the next 8 days, go-today is offering an unbeatable vacation package to Iceland for travelers wanting to enliven the 2015/2016 fall/winter season. For just $699 per person, ordinary Americans can transport themselves from the dreary boredom of a cold, blah East Coast to an Arctic world of thermal pools, glaciers, geysers and frozen waterfalls. Bookings must be made by March 30, 2015 – so get cooking.