Tag: Historic Deerfield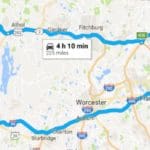 Each year thousands of leaf peepers tumble into their cars and head north toward the mountains of Maine, New Hampshire and Vermont to be dazzled by fall foliage displays. Highways become clogged, restaurants are filled to overflowing, hotels are sold out and prices are at their max.
This year we have a smarter suggestion for you, instead of heading north, point your car toward central Massachusetts and discover the beauty of ancestral farms, hillsides awash with fall colors and small towns chock full of farm stands, art, music, history and artisan craft shops. Fall foliage is just as brilliant in this verdant region, but you'll miss the annoying crowds.
Meandering through the lovely village of Historic Deerfield reveals a fascinating glimpse at life in colonial America that is amazing, beautiful and extremely educational.
Approaching Old Main Street, we immediately became time-travelers dropping in to peer at life from 1673 to the 1800's in the Pioneer Valley. We strolled narrow streets and experienced the sights, smells and hospitality of yea olde New England. English settlers traveled to this incredibly fertile land to farm, establish a settlement at the edge of civilization and raise their families.