Tag: haunted sites in London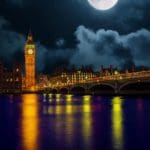 Uncover London's Dark Past At These Fascinating Sites That You'll Discover on London Haunted Walking Tours.
If you're intrigued by London's dark past, we've got just the places for you! From Jack the Ripper walking tours, to exploring haunted houses, there's a lot of ways you can explore the darker side of London. Let's take a look at some of my favourite below.