Tag: haunted Bed and Breakfasts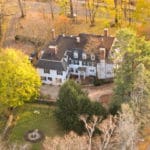 Enjoy a Spirited Stay at One of These Haunted BnBs and Learn All About Their Resident Ghost
It's that time of year again! Halloween is almost here. Instead of exchanging ghost stories in the night, why not give yourself, your family and/or your friends a chance to tell of your own spooky stories after a visit to one of these haunted, yet hospitable, bed and breakfasts? Enjoy these stories of some of our favorite BnBs that play host to guests and ghosts alike:
Ghosts are like a fine wine; their boo only gets better with age. The same can be said for the historic homes where they reside. These houses have seen people come and go, while some guests have decided to stay forever. They spend their days and nights walking up and down creaky stairs, crossing rooms in a shadowy veil, and floating objects in mid-air. It's probably because they have endless time on their translucent hands. You might slam a few doors, too.
On your next getaway to a haunted bed and breakfast, you can raise a toast with your fellow guests before listening to the innkeepers tell bone-chilling stories of past guests who never left.
The Captain Lindsey House Bed and Breakfast in Rockland, Maine is not only one of Maine's premier inn experiences, but it is so comfy that spirits from past generations just don't want to inhabit anyplace else. Recently a "spiritologist" reported that Captain Lindsey himself is still in residence as well as 35 other friendly spirits who seem to gather in the parlor