Tag: Halong Bay Vietnam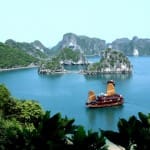 Ha Long Bay in Vietnam is truly a scenic paradise that nature enthusiasts and adventure travelers should not mmiss. It is a UNESCO World Heritage Site comprised of about 1600 islands and islets of limestone formation. It is a distinctly scenic seascape with spectacular pillars cascading throughout the bay. Located off Ha Long city (on the northern tip of Vietnam), it takes around half an hour to reach from the main Bay area. Halong literally translates as 'where the dragon descends into the sea' and according to local legend, this ethereal seascape was gouged out by a great dragon with its thrashing tail.
Here are 5 adventurous takeaways from Ha Long Bay: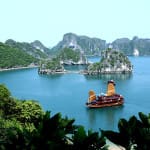 Southeast Asia is an extremely picturesque region and Vietnam in particular is one of the most beautiful countries in the world. The south of the country is home to the Mekong Delta, with its amazing floating markets and unique ways of life. The central regions have amazing beaches and the cultural heritage of Hué and Hoi An. The north has the stunning mountain scenery of Sapa and the jewel in the crown, that is, Halong Bay.
Halong Bay is quite simply astonishing. It is huge, for a start, covering about 600 square miles. The sea is clear and blue and the whole bay is dotted with almost two thousand islands.