Tag: Guide to Desden Germany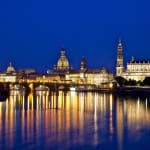 Discover Dazzling Dresden, Germany – The most beautiful city on the Elbe River.
Dresden is undeniably one the most beautiful cities in Germany, many would say the most beautiful, it sparkles with baroque majesty that will leave you feeling you've arrived in a very special place. Lying right at the heart Germany's Saxony region and just 30 miles from the Czech border, Dresden is separated into two parts lying either side of the River Elbe.