Tag: Gordon Parks Museum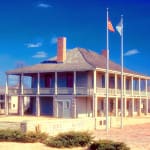 There are numerous well-known sites where travelers can experience a combination of beautiful nature, local history and an atmosphere of Americana. I'm "allergic" to touristy sites but a recent trip out West brought us the opportunity to enjoy all of these elements in a friendly atmosphere of good old welcoming Kansas hospitality.
Friends suggested that we stop off in Fort Scott Kansas, a small town of fewer than 10,000 residents. I had never heard of Fort Scott before this trip but I was glad that we made the effort to spend a day there. Fort Scott may never be known as one of America's ten most popular travel sites but we appreciated the chance to relax and walk around the cultural and historical sites of the city.