Tag: Getaways in the South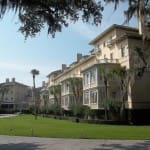 Nothing is as soothing as a bit of Southern Comfort, especially in the springtime. Here's a look at charming BnB's that are ideal for an indulgent spring break.
Spring Break is the ideal time to plan your escape, especially if you're craving some warmer weather. Going below the Mason-Dixon line offers more sun and plenty of fun, and you won't have to pay a fortune to enjoy a wealth of benefits and some true southern comfort.