Tag: Fun With Kids in New York City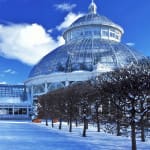 We have great recommendations for fun winter activities with kids in New York City. As we all know trying to find something to do with a toddler during the winter can be a challenge. Luckily, there are a lots to do here in NY.
We decided to visit the New York Botanical Gardens Train Show. We live about 15 minutes from the Botanical Gardens, but had never been there. We were graciously hosted by the garden to see the Holiday Train Show and see the rest of the garden.