Tag: free walking tours Basel Switzerland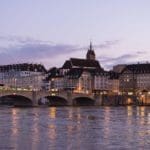 Visiting Basel, Switzerland, on a Budget – Yes It's Possible!
There are few places in the world as breathtaking as Basel, Switzerland. With captivating scenery, it's no wonder it has become the third largest Swiss city. Basel, like much of Switzerland, is famous for its cheese, watches, and high-quality chocolate. At least, that's all I knew about it before deciding to visit.