Tag: family vacations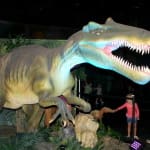 Looking for a great experience with your kids to do indoors this winter? A must see is Discover The Dinosaurs a traveling exhibit and entertainment event that is visiting cities across the United States.
Discover The Dinosaurs is a large exhibit that encompasses 8-10 elaborate scenes of dinosaurs from different periods of prehistoric times. These dinosaurs move, have sound, and you and your kids will be amazed at what you see. The experience starts with a scavenger hunt that adds to the learning experience. Once you are finished viewing all of the dinosaurs, take a try at digging up some dinosaur fossils.