Tag: Fall Foliage Rail Roads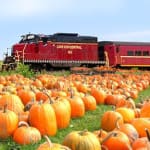 This year why not let someone else do the driving while you sit back and relax with nothing to disturb your leaf-peeping revelry. We've pulled together a guide to America's favorite rail journeys that travel past the country's most stunning fall foliage vistas. Whether you have one day to spare or a week, here are the best train routes for doing some serious leaf peeping.
From New England, to the Blue Ridge Mountains and the narrow gauge rails of the west, there's spectacular foliage scenery all along the way.