Tag: Exuma Bahamas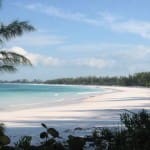 Good news everyone – Delta is starting nonstop flights to the Bahamas from Atlanta!
Do your daydreams include making the first set of footprints on a gorgeous beach as you stroll hand-in-hand with your honey along a picture-perfect bay? Well then, get yourself to the Out Islands of the Bahamas where life is one breathtaking beach after another! And the good news is that hurricane Joaquin didn't do any sustaining damage, so the resorts are as tempting as ever.
If you haven't discovered the Out Islands of the Bahamas yet, you're missing some of the most beautiful beaches and pristine landscapes on the planet.