Tag: Dubai Aquarium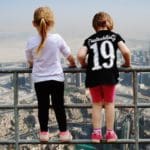 Traveling Dubai with Family – Places you Must Visit
Dubai is expanding by leaps and bounds in terms of travel and tourism. With expanding business and employment opportunities, thousands of people are visiting the city to experience its matchless beauty, brilliant infrastructure, diverse and multi-cultural community, and endless activities of fun and entertainment.
Life in Dubai is filled with glamour and attractions with the addition of innovative sight-seeing, and zero percent crime rate. For the same reasons, Dubai is considered one of the most family-friendly tourist destinations for people across the globe.
You must have heard that winter is the best time to plan Dubai trip, as temperature is moderate during winter and allows visitors to enjoy several outdoor activities like sunbathing on white sandy beaches, desert safari and sand boarding. But I can assure you, Dubai offers ultimate opportunities of leisure and entertainment activities even during hot summers for people of all age groups, including kids. Hotels, resorts and airlines announce discount packages during summer season to attract families and friends to visit Dubai during summer. If you are planning to visit Dubai during summer, you need to prepare yourself to survive high temperatures.