Tag: dog friendly hotels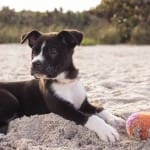 August is considered to be the dog days of summer, so it's perfectly appropriate that National Dog Day falls on August 26, 2015. Just as summer temperatures crank up and you and your pooch are in need of a romp at the beach, hotels and inns are treating guests and their doggie pals to some extra special treats.
Here's a look at some of the best beach getaways for you and your best canine pal this summer.
Unconditional love – it's what pets give every single day. If you're a pet owner, you understand the special place they hold in our hearts. When you've had a tough day at work you can be sure a wagging tail (and maybe a happy bark), or a soft purr and a rub are waiting to greet you. Your mood can go from blue to new just by walking through your front door.
When the time comes to leave for a getaway, it's hard to look into those puppy dog eyes and say good-bye. Fido and Fluffy are like family members, so leaving them behind is especially hard. Luckily, there are many B&Bs that allow pets to accompany you on a getaway, depending on size and behavior. Pet-friendly B&Bs provide amenities for your furry friend, including beds, water dishes, toys and treats.