Tag: Connecticut Shore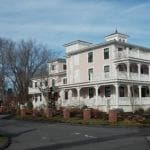 Discover the story behind the historic Three Stories at the Saybrook Point Inn.
This stately Victorian Italianate was originally built in 1892 by William Vars, a train engineer who brought visitors from Hartford to vacation on the Connecticut shore. The home fell into dilapidation when owned years later by Marie Clark. Stephen Tagilatela would walk past the grand house every day and watch the house crumble. Wanting to restore the home and maintain the history, Stephen purchased the house and renovations began on The Stories.