Tag: Connecticut shore vacations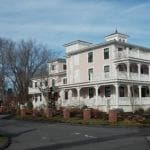 Discover the story behind the historic Three Stories at the Saybrook Point Inn.
This stately Victorian Italianate was originally built in 1892 by William Vars, a train engineer who brought visitors from Hartford to vacation on the Connecticut shore. The home fell into dilapidation when owned years later by Marie Clark. Stephen Tagilatela would walk past the grand house every day and watch the house crumble. Wanting to restore the home and maintain the history, Stephen purchased the house and renovations began on The Stories.
With holiday stress is behind us, now is time to relax and rejuvenate for the New Year, and we've found the perfect place for a mid-winter indulgence, the Saybrook Point Inn in Connecticut. The Inn is located between the Connecticut River and Long Island Sound with one of the most breath-taking views in Connecticut. You'll feel the warmth and hospitality the minute you walk through the doors. For more than 25 years, the Inn has been owned and operated by the Tagliatela family, where attention to detail and customer service are exceptional.
The State of Connecticut recently ran a "Fan Favorite" campaign for residents and visitors to vote for their favorite town in Connecticut. The winner was the charming town of Niantic, a village of East Lyme, located a short distance from Mystic. I had never been to the Connecticut shore, so just had to see what everyone was raving about. My visit just so happened to coincide with a visit by Governor Malloy who was presenting the town with a video. It all started with a video the town submitted to the Fan Favorite contest, have a look: http://www.youtube.com/watch?v=DM0tROLWfVY . After one day in Niantic I knew exactly why this wonderful small town was voted Connecticut's favorite town.