Tag: Cape Cod travel tips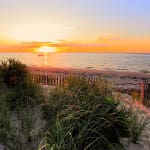 As the weather warms, anticipation builds throughout New England – it's almost time to escape to the Cape! Stretching out like a big fist pump, the 70 mile scenic arm of Cape Cod beckons all to come play on its 600 miles of sandy coast. But the problem remains just as certain as the traffic congestion before the bridge, just where can you find the hidden coves and uncrowded beaches of your dreams. Luckily I've just discovered a terrific new Cape Cod guide that spells out exactly where to find the most select Cape Cod locations to make your vacation better than ever before.
Sunsets on the beach. That phrase alone can conjure up powerful, peaceful images. A beautiful sunset, in a beautiful location, can make a bad day good, or a good day even better. Cape Cod has no shortage of beautiful places to catch a sunset. I have been privileged to live here my entire life and have seen thousands of sunsets from hundreds of locations. Choosing a personal favorite would be an impossible task as I have many. However, for any new visitor to the Cape I can recommend the place to catch your first sunset. That place is Rock Harbor in Orleans.