Tag: Cape Cod Beaches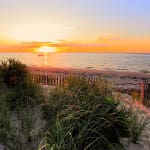 As the weather warms, anticipation builds throughout New England – it's almost time to escape to the Cape! Stretching out like a big fist pump, the 70 mile scenic arm of Cape Cod beckons all to come play on its 600 miles of sandy coast. But the problem remains just as certain as the traffic congestion before the bridge, just where can you find the hidden coves and uncrowded beaches of your dreams. Luckily I've just discovered a terrific new Cape Cod guide that spells out exactly where to find the most select Cape Cod locations to make your vacation better than ever before.
This past November, the nation paused to commemorate 50th anniversary of the assassination of one of the most iconic presidents in American history. Elected President at the age of 43, John F. Kennedy was the youngest man to ever hold that office. Kennedy's young family and his all-American background captured the hearts of the American people. Nicknamed "Camelot" for its idealism, the Kennedy Administration was respected and unique. The Kennedys were much easier to relate to than older, stuffier presidents of the past, and were quickly embraced by media as pop icons of the day.