Tag: Cairns Australia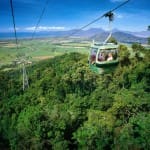 Renowned as the "Gateway to The Great Barrier Reef", which is acknowledged as the largest living organism on the planet at 2011 km long (just under 1250 miles), Cairns has even more than sea life to offer. Although, the journey out to the beginning of the reef at Green Island certainly has to be done simply for the experience. However, my interests are more green than blue, and with that in mind, my thoughts go inland to the Wet Tropics Rainforest.
The Queensland coast line, at around 2,500 kilometres long, offers incredible diversity for travellers keen to experience it all. With a catchline, "beautiful one day, perfect the next," Queensland holidays are undeniably amazing. Starting in the south and heading north, here are the top ten destinations for things to do in Queensland to make the most of your next Australian driving adventure.