Tag: Brussels Sightseeing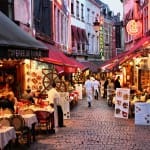 Chances are your visit to Brussels will be an adjunct to a longer trip and your time there will be limited. So let's take a look at the 6 Top Things to Do in Brussels.
High-speed trains run often from London, Paris and Amsterdam and direct flights from the states land daily at the city's airport. Although there are several luxury hotels and accommodations available, Brussels is cheaper than other cities in Europe, making it a great addition to your next trip.