Tag: best sites in Warsaw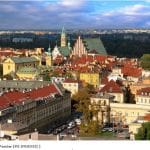 Come on a with us on a fascinating historic stroll through Warsaw, Poland.
What fascinates me about Warsaw is the immense and depth of of its cultural history. Warsaw is the capital city of Poland after the medieval capital city of Krakow. What is more eerie, is that Warsaw was completely destroyed during the World War II, with many lives perishing in the town. But humanity's spirit never wanes and Warsaw is a symbol for that; today almost every standing structure in the city is postwar era renewal. Thanks to the ingenuity of the city's talented engineers, the quaint old district of Stare Miasto still stands fully-restored.