Tag: Best Bars and Restaurants Toronto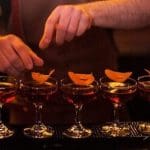 Stepping Out in Toronto? Here are our recommendations for great bars and restaurants in Toronto for good time.
Nowadays, most of the places in Toronto tend to be over-hyped or too mainstream. It is always nice when you have a place to go and relax, to put the burden of your work day aside. Not all the clubs and bars can provide you with that "solitude among people". We as individuals tend to follow the trends, thus forgetting that the point of going out is to have a good company in descent environment. High prices don't presume better quality of the drinks; more people in the club don't presume better service. This is our choice for the best, intimate clubs that give you the feeling of privacy for smaller but selected groups.