Tag: Activities in Munnar Inida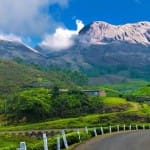 Munnar is a picturesque town in the Western Ghats Mountains in India's Kerala state. It is set within the vast expanse of hills, dotted with tea plantations established in the 19th century.
When you hear the word 'Munnar', what comes to mind are the lush green hills, holy temples, and exquisite lakes. But fortunately, the list doesn't end there. It is a nature lover's playground, but there's something for everyone. This hilltop getaway is also an adventure junkie's paradise. Eravikulam National Park is a seasonal trekking destination encompassing the Lakkam Waterfalls.