Tag: Aboriginal Sites Australia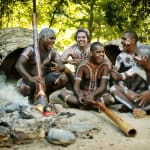 Experience Ancient Australia by Sharing Time with Aborigines.
Australia's vastness and natural beauty offers seemingly endless options for vacation destinations but none offer a more mystifying experience or cultural connection than sharing time with Aborigines. Over 6 million people a year spend vacation time interacting with Aboriginal culture. These fortunate people realize that Aboriginal beauty doesn't solely reside in remote, hot, dry and dusty locales. They also see current day Australia and are simultaneously chaperoned back through time to feel an ancient Australia, held sacred by its oldest inhabitants. Here are some of the best places to enjoy the gifts that Aborigines want to show the world, which will make their home ten times more meaningful to you.