Tag: 25th Annivsary Fall of the Berlin Wall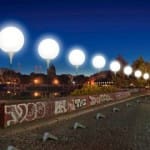 From November 7 to 9, 2014, Berlin and the world-at-large will commemorate the 25th anniversary of the Peaceful Revolution in Berlin, Germany that witnessed the fall of the oppressive Berlin Wall on November 9, 1989. Anyone who was alive during that era certainly feels an affinity with the people of Berlin so long tyrannized by a brutal government, and their jubilation at being finally free to engage with the rest of Germany and the world.
Citizens of Berlin will celebrate the fall of the Berlin wall with a LICHTGRENZE that will feature 8,000 helium-filled balloons placed along the route of wall that separated East and West Berlin.