Category: Unique Vacations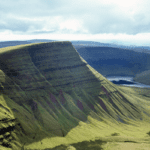 Brecon Beacons vs Wye Valley Activities – All The Adventure You Can Handle! The Brecon Beacons and Wye Valley are two stunning areas less than 20 miles from one another. Each has its own distinct geographical beauty, but both are hugely popular tourist destinations perfect for getting outdoors.
Brecon Beacons National Park is a grassy, heather-clad mountainous region situated just above South Wales' historic coal mining region. This dramatic landscape, shaped by glaciers in the last Ice Age, was designated a national park in 1957. Here you'll find South Wales' highest peak, Pen y Fan, and a whole host of cracking outdoor activities reign supreme. In contrast, the Wye Valley is condensed to 58 miles of the River Wye to form some spectacular limestone gorge landscapes and dense ravine woodlands.