Category: Unique Vacations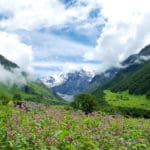 Himalayan Hikes (Treks) That The Average Fit Traveler Can Tackle – Yes You Can!
You may be surprised to learn that the Great Himalayan Mountain range has treks for all types of travelers, from epic and challenging to the easiest and most accessible. Many people avoid this travel destination because they assume that it's all covered in snow. In reality, many paths are actually blooming with greenery: flower fields, plain plateaus and camping sites that are not positioned at extreme altitudes, are easy to find.